WELCOME TO QUALITY CROWN & BRIDGE STUDIO, INC.
A full service dental laboratory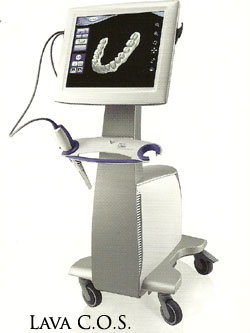 Confidence begins with precise digital impressions from the Lava C.O.S. What if you could view impressions instantaneously in amazing detail and amplify the productivity of your practice - all while turning an unpleasant procedure into a remarkable interactive experience? That's the promise of the Lava Chairside Oral Scanner C.O.S. Featuring revolutionary 3D-in-Motion technology, the Lava C.O.S. captures incredibly accurate 3D video images of tooth anatomy. Digital images so precise you and your lab can create PFM, gold or CAD/CAM restorations that 3M ESPE guarantees will fit.

According to a recent survey of dental labs in the United States, the biggest challenge labs face with incoming work from dentists is "inadequate impressions." The fact is, even the most experienced practitioner using the best materials can encounter difficulties making impressions: delamination, facial-lingual pulls, tearing at the margin, tray-tooth contact and discrepancies with stone models.
Straumann® Bone Level Implants

Straumann expertise applied at bone level

* provides surgical and restorative simplicity in all indications
* confirms secure component positioning
* supports bone preservation for predictable esthetic results

The Straumann® Bone Level Implant portfolio includes the three standard endosteal diameters for Straumann® implants (3.3 mm, 4.1 mm, and 4.8 mm) and is available in the lengths 8, 10, 12, and 14 mm.

Straumann® Bone Level Implants have a cylindrical outer contour. The core is cylindrical in the apical region, becoming slightly conical in the coronal part of the implant leading to a mild taper. The implant features a thread to the top (identical thread as on Straumann® Tapered Effect Implants) for extensive interlocking with the bone. This design provides excellent primary stability in all indications.
D700 and D710 Scanner

The 3Shape D700 and D710 Dental Scanners are optimized for 3D scanning of both impression and gypsum models, and they surpass all performance norms for scan speed, precision and detail level. No other dental scanner on the market offers such an extensive range of predefined scan indications, and with Multi-Die Scanning on the D710 your lab's efficiency will reach new levels.

Easy to use, faster delivery and superior clinical results

When teamed-up with 3Shape's DentalDesigner™, these scanners bring unprecedented scan-to-completed-design time and enhanced customer satisfaction to your business. 3Shape's advanced dental scanners are so easy to use that extra staff training is hardly required.